A Frigid Fargo Season Opener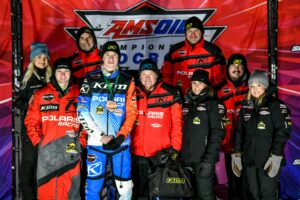 The 2022-2023 season kicked off at a frigid Fargo season opener with three full days of racing on one of the largest and longest tracks on the circuit. Despite the high winds and negative temps, the Pro class brought the heat with some of the most epic battles we've seen on full display. At the forefront of a lot of those was our Polaris/ Klim Jack Links rider Emil Harr.
Friday's racing kicked off with the highly anticipated Amsoil Dominator that recently switched back to the head-to-head bracket style format; a rider and fan favorite. Pro and Pro Lite riders battled it out in the winner-takes-all format with Emil Harr qualifying, and advancing past the first round of knockouts. In the second round, Harr was up against seasoned veteran Kody Kamm where they were neck and neck off the first lap when Harr attempted to quad a jump to inch past Kamm. Although memorable, this attempt eliminated Harr from the competition as he came crashing back down to earth.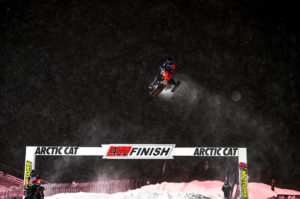 During the first official points round of racing on Saturday, Harr could do no wrong going 1-2 in his qualifying rounds and securing the number one qualifying position for the round one main event. Harr's 600R Polaris rocketed out to a top five start as he made swift work of a few riders putting himself in the top three early on in the race. Near the end of the race Harr was able to catch up to second, but ran out of time to make the pass and ultimately rounded out the podium in third. 
On Sunday, Harr's speed was not reflected in his results in the qualifying rounds. In the final, Harr was sitting outside of the top ten when he was able to get crafty and was the only rider to triple a back section jump, allowing him to gain multiple positions and find himself to sixth place in round two.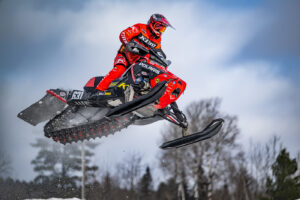 During the preseason, Pro Lite rider Carson Alread suffered another shoulder injury sidelining him for the season. Another labral tear and shoulder fractures will keep him out of the hunt this season, but he plans to get surgery to repair the damage and will make a full recovery. We will be actively filling his position, so stay tuned for team updates and announcements regarding another rider joining our crew soon!
We now have a three week break from racing to enjoy the holiday season and will be back at it in early January at Canterbury Park in Shakopee, MN for rounds three and four. 
HARR RD 1:
P3
HARR RD 2: 
P6