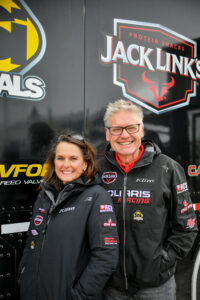 Scott and Colleen Judnick are the embodiment of teamwork and commitment. Married since 1980, the couple share an enviable unity and dedication to the goals they have set. Minnesota native, Scott Judnick realizes what hard work and determination will get you. Hailing from the blue-collar environment of the Iron Range of Minnesota, Scott knows the meaning of work ethic. Working in the garbage business for over 20 years taught him many lessons; getting the job done, customer satisfaction, paying the bills, and keeping equipment operating. Scott grew with the business to become the leader in the trash collection industry in Northeastern Minnesota.
While building his business, Scott and Colleen were also building their family. Two enthusiastic boys joined the "original" Judnick team and the couple soon recognized that the boys were anxious to be going places. When Scott sold off the business in 1995, he and Colleen turned their hobbies into opportunities. Their love of motorsports has driven the Judnicks to form Judnick Motorsports.
Judnick Motorsports is committed to bringing professionalism to the motor sports industry through their racing program, team members, and sponsors.
Judnick Motorsports will continue with the tradition of being a "fan-friendly" team, approachable at all times - before, during, and after the event!
Let's Go Racin'