Harrnessing Another Podium Finish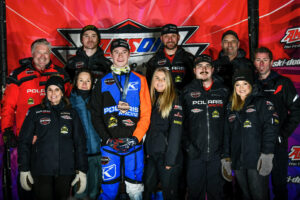 For the first time since 2021, the Amsoil Championship National tour returned to the Sioux Falls, South Dakota area and made its highly anticipated inaugural visit to the legendary and historic Huset's Speedway. With a new venue and never seen before bow-tie track layout, the weekend was poised to be nothing short of amazing. 
Pro rider Emil Harr opened the weekend with a hard fought podium finish. At the beginning of the Round 9 final, Harr came around the first lap in last place. Although a rocky start, EH showed why his come from behind efforts are second to none as he worked his way through the stout pack one lap at a time. Around the five minute mark, the Swede kicked it into another gear and powered his Polaris/Klim Jack Links sled all the way to a third place finish. The #31 pocketed his fourth podium finish this season, putting him back in the top five in the Pro points chase.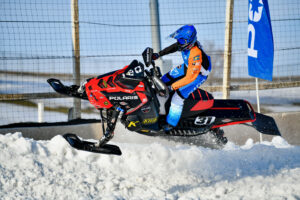 Despite finding success in Saturday's heat races going 2-2 and setting the fastest lap time in practice, EH struggled to make things happen in the Round 10 main event. EH got bumped off the start, setting him back and having to fight for position early on. While exchanging places with riders during multiple battles in the final, EH ultimately finished sixth. After the race, officials had ruled that another rider that had come off during the final had reentered the track in an unsafe manner and was docked three positions, gifting EH a fifth place finish when everything was all said and done.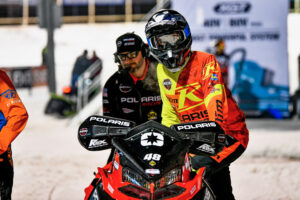 Older brother Filip Harr made his return to racing after sitting on the sidelines the last two rounds due to a shoulder injury. FH struggled with his riding, but feels as though he has more left in the tank and is ready for some redemption at his home away from home track of ERX Motor Park this upcoming weekend. 
Embracing the dirt track/sprint car history at Huset's, on Saturday before opening ceremonies Mark Dobmeier, local sprint car legend, took a hot lap around Huset's aboard our Judnick Motorsports sled. He and his wife have a racing background, but he had never saddled up on a race sled before so it was exciting to be a part of this moment with the local fans and on the broadcast.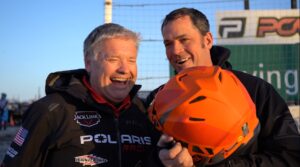 We look forward to the weekend ahead as the series makes a second appearance at ERX Motor Park this upcoming weekend for Rounds 11 and 12. As always, we cannot thank all of our sponsors enough for the continued support toward our racing efforts. Without you, none of this would be possible.