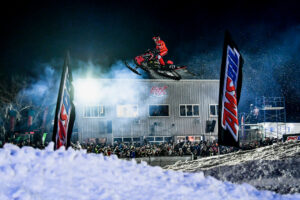 After a two weekend hiatus, the national tour returned to racing this past weekend. Rounds 7 and 8 were originally slated to take place on the east coast in the Empire State, however mother nature had other plans. Due to a lack of snow and warm temperatures, the race was relocated to ERX Motor Park in Elk River, MN. ERX is the home track to many riders and teams, including ours, as it serves as a world class practice facility during the week. Although an impromptu visit, this Supercross style track provided us with snow to the masses and was the biggest and baddest course we have seen yet this season. 
Friday Emil Harr kicked things off going 3 and 4 in his heat races. In the Round 7 final, EH came off the line in the back of the pack, making for a difficult start to the race. EH started picking off riders left and right and he found his way up to 7th when an off would take him out of contention for the night. Despite this hard off, the #31 got back on the saddle and rode out the rest of the final to a top ten finish.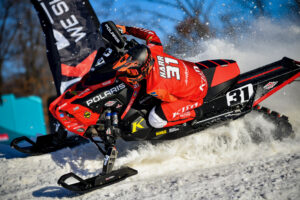 Saturday told a similar story as an off in one of EH's heat races would place him in the back row of the Round 8 Pro final. Although he had his work cut out for him, EH put his head down and rode his own race, going from 11th to 6th in the main event. EH is happy to leave the weekend healthy and now have a weekend off to rest, reset, and recover to get back to his winning ways.
Filip Harr was unfortunately sidelined from the action this weekend due to the shoulder injury he sustained in our previous rounds in South Dakota. We made the executive decision to have him sit out these rounds so he has ample time to recover and get back to race form to come out swinging in our next rounds of racing in two weeks.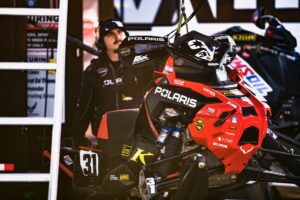 We have officially reached the halfway point of the 2023 season and look forward to a March Madness swing with three action packed weekends of racing next month. The team will take these next two weeks to test and tune and ensure we're ready for battle for our next rounds of racing in Sioux Falls, SD on March 3rd and 4th.